A singular sense of confusion suddenly darted through my head. I stumbled on, determined not to heed it; but I grew worse and worse, and was forced at last to sit down on a step. My whole being underwent a change, as if something had slid aside in my inner self, or as if a curtain or tissue of my brain was rent in two.

(Knut Hamsun, Hunger)
Knut Hamsun's "Hunger" (1890)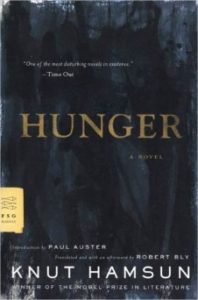 Hunger is Hamsun's debut novel. When published in 1890 it was a literary success beyond any other. It is now considered among the key novels of the modern European art, as it anticipated human alienation in modern society in the 20th century.
The book centers around a young, unknown and poor writer living in starvation in the 1880s Christiania (today Oslo). The background to this story is Hamsun's own attempts to survive in the winters of 1880-81 and 1885-86.
The main character is marked by social and artistic ambitions, and he is driven by emotions, fantasies and ideas. These are in stark contrast to his real life as a starving, begging and unemployed young man.
Hunger is undoubtedly one of the most important novels in modern times. A novel, complex and of immense force. I went through evening classes in Norwegian to learn enough of Hamsun's language to read him in the original. I was drawn into the main character's life and pinches so quickly and fully. Hamsun wrote about him completely from the inner side, it seemed like. I felt like being on the inside too. So when the guy was hungry, so turned my stomach; when he was depressed, I felt gloomy; when he was excited and crazy, so I laughed loudly and cried out his words of madness as I read them.

(Duncan McLean)
Download Knut Hamsun "Hunger" as a PDF e-book
You can download Knut Hamsun Hunger on PDF here.
Buy here